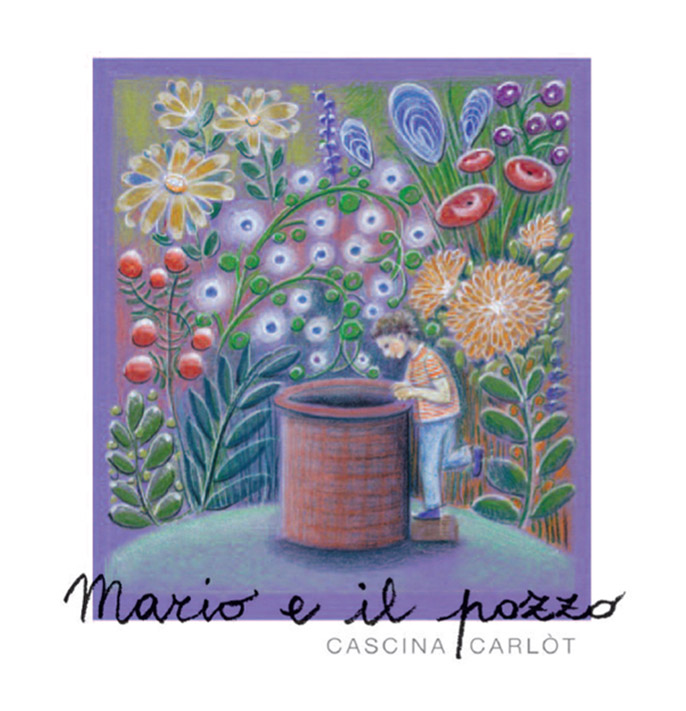 Mario e il Pozzo (Mario and the well)
This wine, that produces just a small quantity of bottles each year, is emblematic for Claudios character and his passion for nature and its ability to transform the fruits; a transformation which he supports reducing the waste of ressources.
A vigorous wine, enveloping and appealing. This wine has nothing tradional but the fermentation in the bottle. Here is Claudio, telling us the story of this sparkling wine:
The story of Mario e il Pozzo starts at the beginning of 2008 during a lunch with friends from Tuscany and a dispute with my father. I knew about the great potential of our Moscato and I knew that the bottle fermentation – a practise used in Piedmont after world war II – would have given it freshness, complexity and remarkable aging potential. I wanted to produce a wine with unique sensory characteristics. My father was against this project as he was sure it was outdated due to the pressure build-up in the bottle and the building of a considerable amount of lees. In my opinion, instead, rediscovering this old practise which had been used also by my grandfather, was extremely relevant nowadays. My stubborness made me begin immediately with the trials and after some years of failure I would not stop trying, anyway. I knew I had to find a place with almost no light and a constant temperature under 15 degrees centigrade all year round: One day, an old well on the family property attracted my attention. Its deepness of around 30 meters guaranteed a constant water temperature slightly under 15 degrees. Furthermore, down there it was pitch dark and there would be the necessary counterpressure for the pressure developed in the bottle by the yeasts. I had to wait 2 years, until 2012, to judge the result of this experiment: the yeast in the bottles was dead, so they were pulled up, disgorged and corked. My first Moscato "tradtional method" was born.
It was well worth the wait: a unique sparkling wine, creamy and with fine bubbles. The nose is full of secondary aromas that enhance the aromatic nature of the grapevine, on the palate it is incredibly complex and well balanced. Thanks to the fact that Claudio is inspired and steadfast, here we have a product which seemed already forgotten in time.



Mosec
Grandfather Mario, one day, during the 1950s forgot a demijohn of Moscato must somewhere in the old cellar. When he found it, the liquid had not – as he had expected – turned into vinegar. To his great surprise, this wine was pleasantly dry and he filled around 70 bottles whit it. From that day, each year, he "forgot" a demijohn of Moscato in exactly the same corner…
This story aroused Claudio's interest and after several trials he succeeded in making his MoSec, the dry wine of the Mo family, in order to reintroduce something that nature has given to us but that had gone lost.
What is the secret of this wine? To wait patiently and let nature take its course.